This post may contain affiliate links. We may earn money or products from the companies mentioned in this post.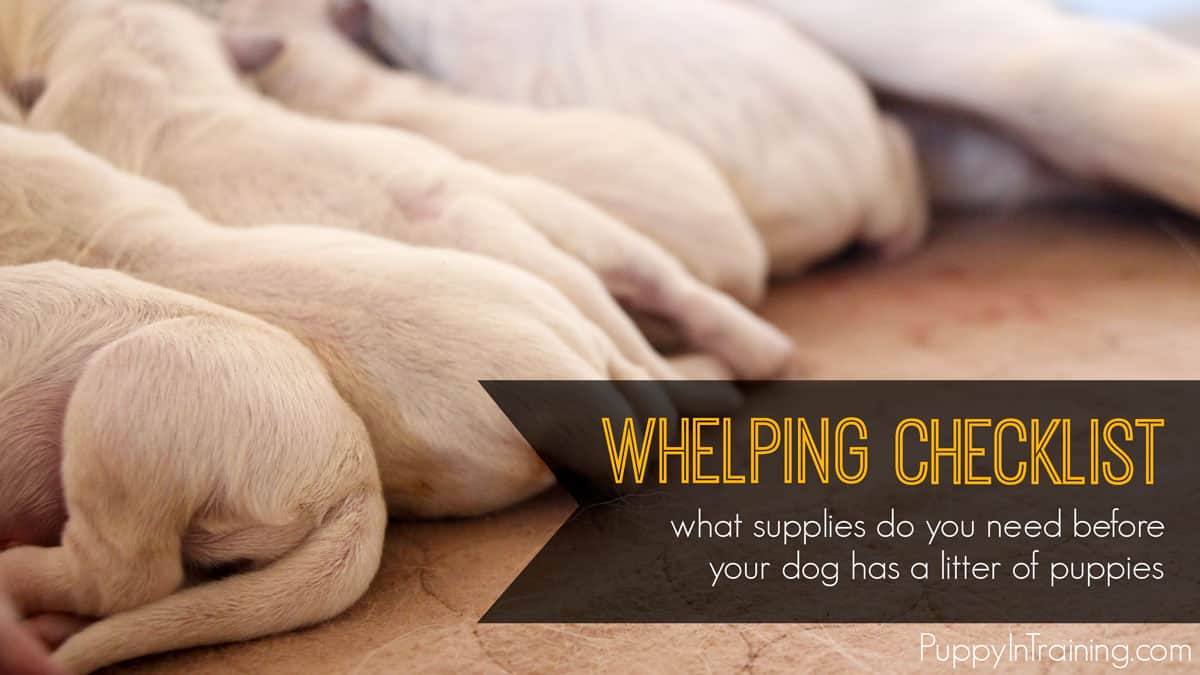 Raven will have her puppies in less than one week and the questions remains: What supplies do you need before your dog has a litter of puppies? Do you have a whelping checklist?
My mother was a huge fan of checklists when we were kids.
As a know-it-all youngster I always thought I could keep everything well organized in my head, but now that I'm older, wiser, and…ehhmm…more forgetful…I find a ton of value in the "checklist".
Today, we're going to put together our whelping checklist so we can be sure we don't forget any of the important supplies needed when whelping a litter of puppies.
*We are not veterinarians. All of the information in this article is based on our experiences. If you're dog is having puppies then please consult a veterinarian for professional advice.
What Supplies Do You Need Before Your Dog Has A Litter Of Puppies?
This time last year I was running around like a chicken with his head cut off trying to figure out what supplies I needed before Raven had her puppies.
Fortunately, this year I'm more like a bear covered with honey being chased by a swarm of bees.
Quick Tip: This time last year we weren't sure what we needed for whelping puppies. We researched the internet and found this basic whelping kit on Amazon (affiliate link) that worked out really well with Raven's first litter of puppies. However, read on because you need more before whelping your first litter of pups.
I like to think I learned a thing or two since Raven's first litter. I didn't have a whelping checklist for litter number one. Instead I researched the internet, watched YouTube videos, chatted with breeders, and hoped I had all the information I'd need to help Raven deliver her first pups.
Lucky for us everything went flawlessly!
This time around I'm putting together a whelping checklist to make sure I don't forget anything from last years successful whelping and include anything new I learned for this years litter of Golden puppies.
Whelping Checklist
Okay guys and gals. If you like lists then you'll love todays whelping checklist!
The Essential Items
Our must have whelping kit items.
Whelping Box – We went online to find a whelping box, but we didn't really like the price or quality of products we came across. We (meaning Ali's Dad) ended up building our own whelping box.
Whelping Mat – You could just use blankets or towels, but we really liked the EZwhelp Washable Whelping & Puppy Pad (affiliate link) we got from Amazon. We liked it so much we bought a second one to make the cleaning process easier.
Digital Thermometer – Start taking mama's temperature 10-14 days before her expected due date. When temperature drops to 98-99 degrees get ready for puppies (usually within 24 hrs from what we've read)
Heat Lamp – Newborn puppies cannot regulate their body temperature. Last year Raven stayed with her pups and they cuddled up to her for warmth, but we also got a heat lamp to help keep our pups warm.
Puppy (Baby) Scale – You want to make sure your puppies are gaining weight. We weigh our puppies every day starting from day 1. We purchased and really like this Puppy/Baby Scale (affiliate link) from Amazon. After the litter of puppies we used it for our newborn daughter
Indoor/Outdoor Thermometer – To monitor the temperature of the whelping box.
Optional: We have a portable air conditioning/heating unit in the puppy room to allow us to better control the temperature of the room. As mentioned earlier, puppies cannot control their body temperature and we want to make sure our puppy room is not too hot nor too cold.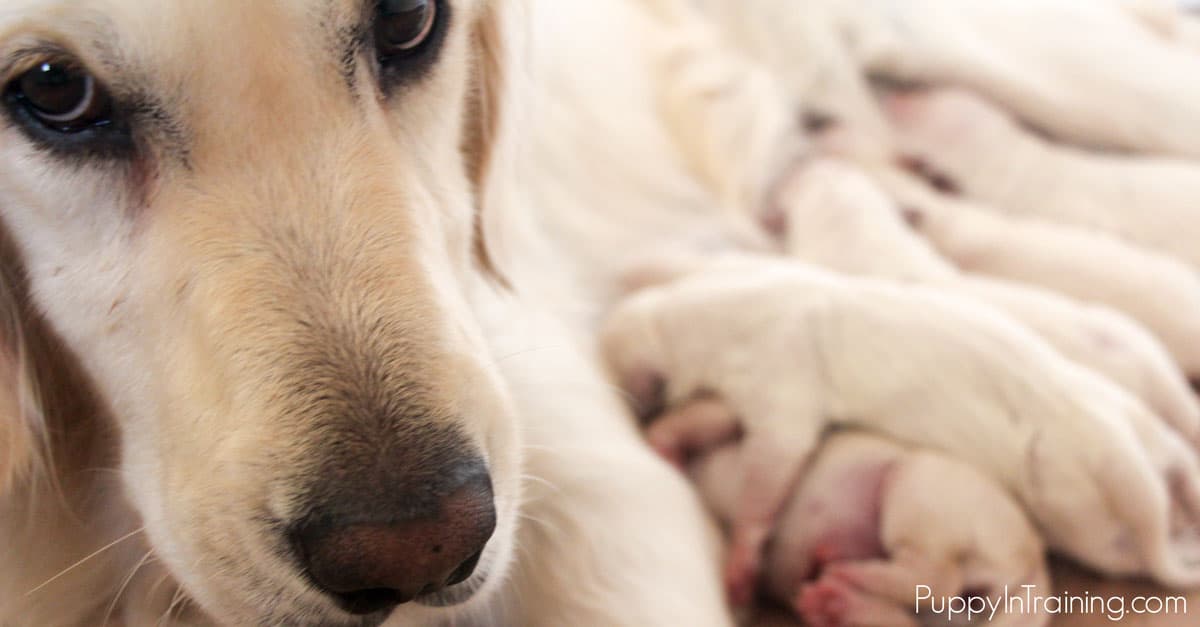 Help The Whelp
Our vet and breeding friends advised that we (the humans) help in a few areas when whelping a litter of puppies.
Head Lamp – One of the things we did not use as we had ample light since we whelped our first puppy in the late morning (around 10am) and finished in the early afternoon (around 2pm). However, a headlamp will allow you both your hands to be free while shining a…