This post may contain affiliate links. We may earn money or products from the companies mentioned in this post.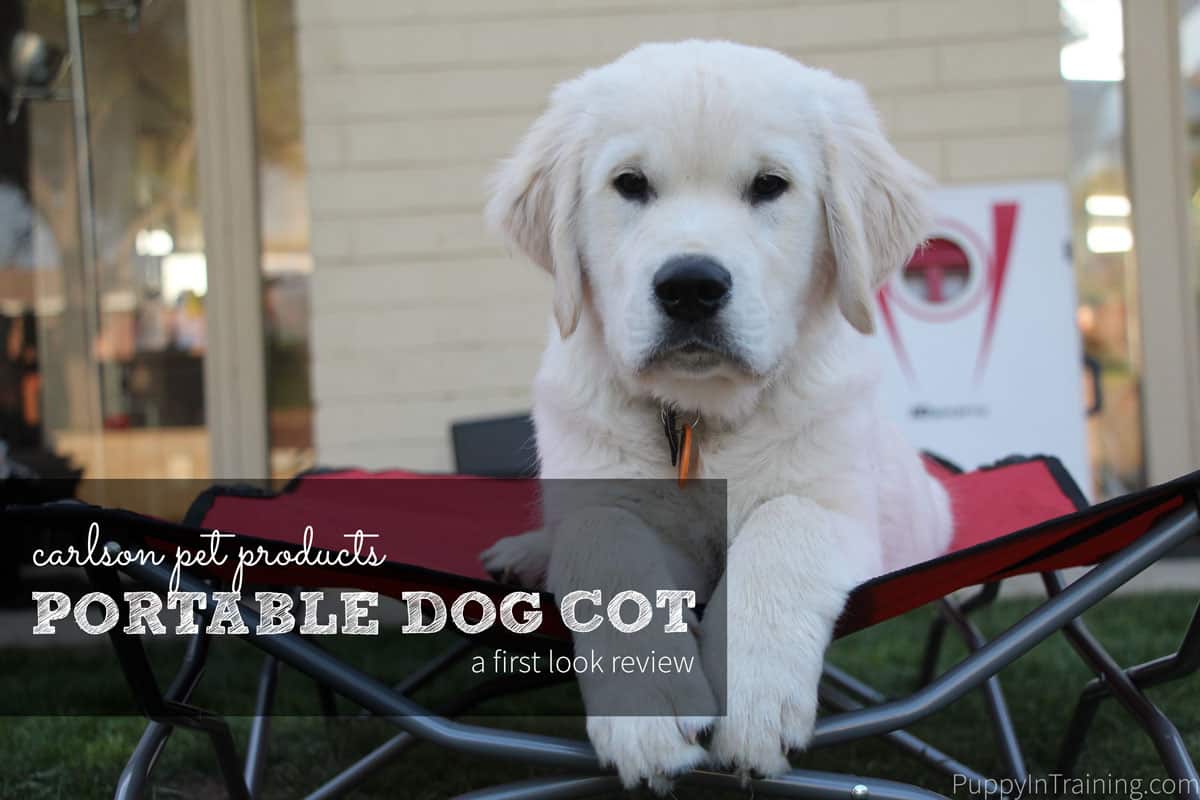 First Look: Carlson Portable Dog Cot Review
This post is sponsored by Carlson™ Pet Products. I am being compensated to help share the Carlson Portable Dog Cot, but we only share information we feel is relevant to our readers. Carlson™ Pet Products is not responsible for the content of this article.
It's been several years since I raised my last puppy with Guide Dogs of America, but I still attend monthly meetings and help out at puppy kindergarten and obedience classes.
A few months ago I was working with our area leader teaching the dogs "place" using a Carlson Elevated Portable Dog Cot.
The Carlson Portable Dog Cot was the perfect tool to teach "place". Not only that, but I could think of hundreds (not literally…maybe a dozen) of other uses for an elevated portable dog cot.
Guess what? I recently got my hands on a large red Carlson Portable Dog Cot for review.
Carlson Portable Dog Cot Specifications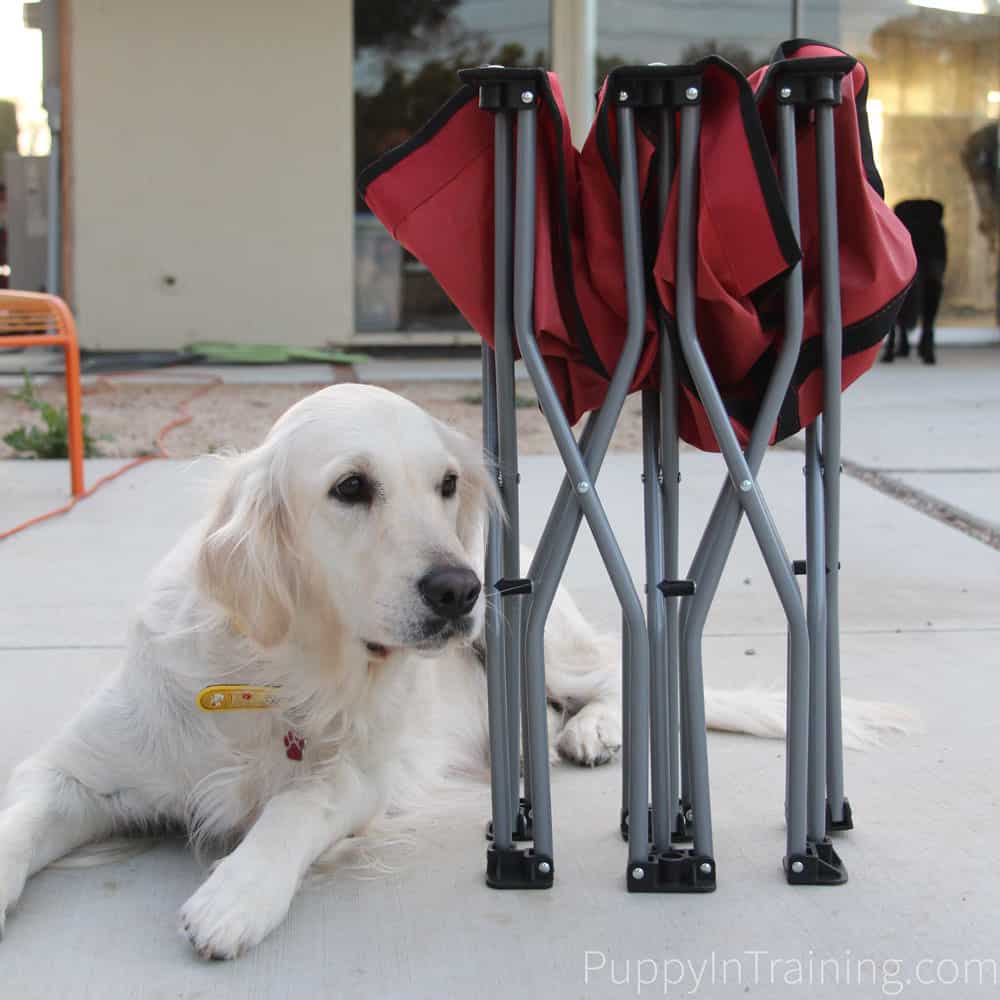 The specs!
First and foremost I like to look at the details of any new doggy product I bring home:
From the Carlson Pet Products website:
Carlson Large Portable Pup Bed
Color: Red
Dimensions: 48" L x 26" W x 9" H
Ideal for medium to large breeds
Sets up and folds down in seconds for storage/travel
Easy carry case included
Durable, waterproof nylon is easily washable
Sturdy, all-metal frame
Model: #8035
**These are the exact specs for the Pup Bed I have at home. You can get different colors or sizes. Here's a look at the adjustable options:
Colors Available: Red, Green, Tan, and Gray
Sizes: Small (26″ L x 26″ W x 9″ H) or Large (48" L x 26" W x 9" H)
What's Included in The Box
One Carlson Large Portable Pup Bed
One Carry Bag
Instruction Manual
I'm not going to bore you with all the details and descriptions so lets hop on over to our review of this portable dog cot.
First Look: Carlson Portable Dog Cot Review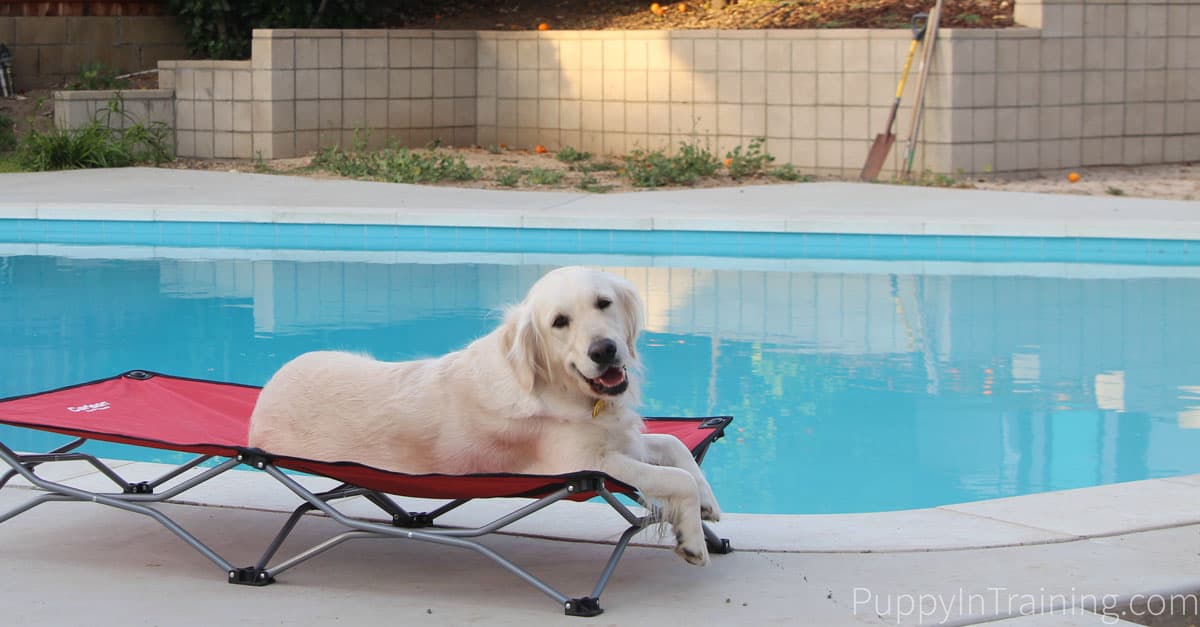 I was excited to get our hands on our very own Carlson Portable Dog Cot. As you can see Raven enjoys relaxing poolside on her new dog cot.
The Dog's Initial Reaction
It arrived just in time to let our newest puppy, Charlie test drive it before he left for Seattle. Here are the first reactions from our 4 dogs:
Linus: Hopped up, layed down, jumped off.
Stetson: Same as Linus.
Raven: She got on the cot and curled up and only used half of the bed. Raven is a 70 pound Golden Retriever and she decided to only use half of the bed!
Charlie: Our 14 week old puppy. He was hesitant to get on at first, but that quickly changed when I added a few treats to the mix. He was up and on the portable dog cot like it was his new favorite toy. Portable Dog Cot = Treat Machine
Initial reaction from the dogs: THUMBS UP!
A Human's Initial Reaction
My first thoughts after opening our new doggy bed:
Everything arrived on time and I like the packaging Carlson uses for both the Portable Dog Cot and the Portable Pet Pen.
Very, very easy to…