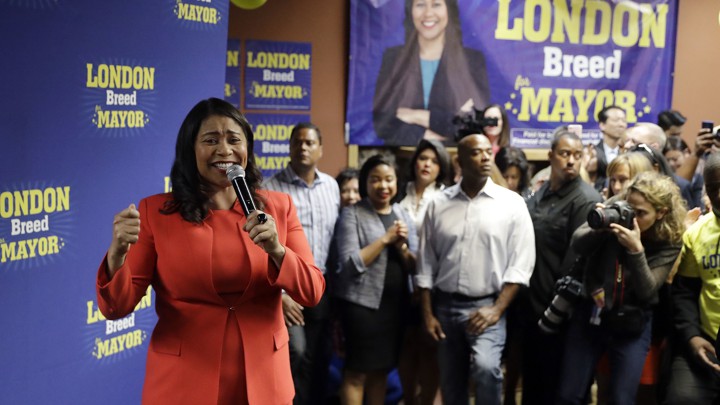 Updated on June 12 at 7:27 p.m. ET
A week has passed since San Franciscans went to the polls to choose their next mayor, and the only thing the city knows for sure is that its ranked-choice voting system has produced the closest mayoral election in decades.
On election night, it looked like former state Senator Mark Leno would prevail over London Breed, president of the city's Board of Supervisors, to finish the term of Mayor Ed Lee, whose sudden death in December created the need for the June 5 special election. Leno, who is bidding to become the first openly gay mayor of the famously gay-friendly city, held a lead of 1,146 votes after the first batch of votes were tallied.
But as city officials have spent the last week counting mailed-in ballots received on or after Election Day, Leno's lead dissipated and then vanished entirely. Breed surpassed him over the weekend, and in the latest tally published by the Department of Elections on Tuesday afternoon, she was ahead by 1,861 votes.
Yet with thousands of mail and provisional ballots still uncounted, the race for San Francisco's top job remains officially too close to call.
"We certainly can't say it's a done deal," Breed's campaign chairman, P.J. Johnston, told me by phone on Monday evening. Johnston said the campaign was "cautiously optimistic" about the outcome given that Breed had gained in the balloting each day since the election.
"Cautious optimism" was also the watchword of the Leno campaign, though perhaps with a greater emphasis on caution than optimism. "We are waiting until the remaining votes are counted," spokeswoman Zoë Kleinfeld said. "With a historically high turnout, we're going to honor every single voter."
The last San Francisco mayor's race to be nearly this competitive was in 1995, when Willie Brown won his first term by barely 2,000 votes. "It is the tightest I've ever seen," said Johnston, a veteran Democratic strategist.
John Arntz, director of the San Francisco Department of Elections, told me that because of state rules for canvassing ballots, the results of the mayor's race could take until the end of June to be certified. But Kleinfeld told me the outcome should become clear "in the next few days" and that Leno would make a statement then. Unless there's another dramatic shift in the tally, that is likely to be a concession.
The winner won't take office until July at the earliest…