This post may contain affiliate links. We may earn money or products from the companies mentioned in this post.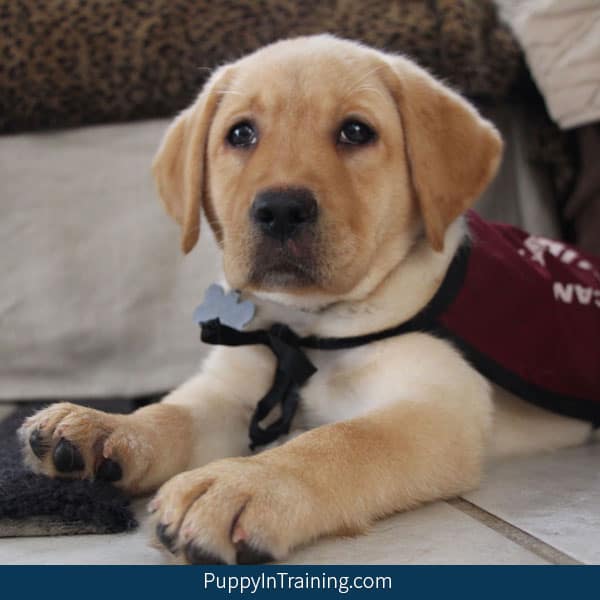 Have you ever wondered or thought to ask: "Colby, what commands do you teach a service dog?"
As guide dog puppy raisers we teach our puppies 9 basic obedience commands before they start their formal training.
Adelle's service dog training manual lists 30 commands! That's right THREE – ZERO!!!
We've been raising and training guide dog puppies since 2006 and we have the privilege of working with these puppies from the time they are 8 weeks old until they are 18 months.
During this time we do our best to make sure they are rock solid with a handful of commands.
When our pups move on to guide dog college they learn many more commands as well as advanced skills and intelligent disobedience.
Quick Recommendation: Unfortunately, if you're not a puppy raiser then you likely do not have access to a service dog training manual. However, there are many good puppy training books available. One of our favorite books is The Puppy Primer (affiliate link). One of the schools we raised for required us to read The Puppy Primer before we could raise a puppy.
What Do We Teach Our Service Dog Puppies In Training?
As a puppy raiser we do not teach our puppies everything. We have three main goals as puppy raisers:
Teach our pups good house manners.
Socialize our puppies.
Teach them basic obedience.
The basics are the same whether you are a guide dog puppy raiser or a service dog puppy raiser. As mentioned earlier the big difference is we have to teach our service dog puppies 30 commands vs only 9 for our guide pups.
That's right! Canine Support Teams has a list of 30 commands we are tasked to teach our service dog puppies in training.
In fact, learning how to teach these different commands is one of the main reasons why I was interested in raising a service dog puppy vs. a guide dog puppy.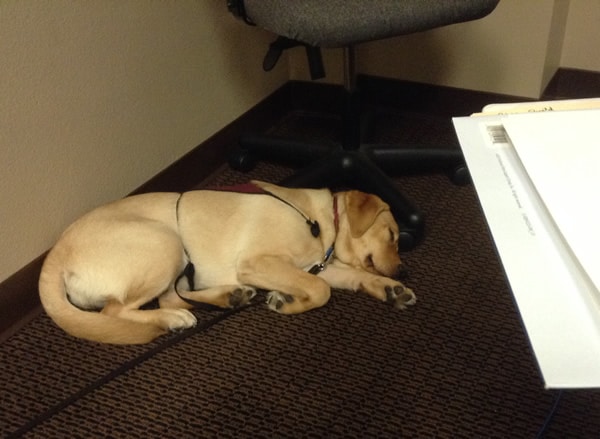 Lucky for us we are puppy raiser manual gives us a list of commands that we are to teach our puppies including what our pup's physical response should be, application, and notes.
So, now you're wondering exactly what commands do you teach a service dog puppy in training?
Take a gander at this list:
Update: 5 years ago we followed CST's standards to teach 30 commands, but guess what? We expanded or list to teach our current puppies even more skills (check out the bonus section). We also included a little more detail about each command.
What Commands Do You Teach A Service Dog?
Our future puppies in training will learn all of these skills. At the moment we are working with Raven, Mother of Puppies (Yep, I watch Game of Thrones) on all 45 commands.
0. NAME – to get your puppy's attention.
Your puppy's name.
Surprisingly this wasn't on the CST list, but possibly one of the most important commands you can teach your puppy.
1. WATCH ME – your puppy makes eye contact.
Important for getting your puppy's focus away from distractions and on you.
2. SIT – your puppy sits on her rump.
She will sit anytime, anywhere on command.
Default position. Get your puppy to SIT/STAY when you are in public and not interacting or not in motion.
3. DOWN – your puppy put's her entire body lying down on the floor.
She will down anytime, anywhere on command.
4. STAND – to stand on all 4 legs.
Standing is a good time to allow your puppy to be groomed or inspected.
5. COME – to advance to your side and SIT in a heel position
Do not confuse with HERE.
6. HERE (CST used the command COME HERE) – to advance to you in no specific position.
Puppy is required to come close enough to you, but doesn't have to sit.
We're using something we learned as guide dog puppy raisers. The differentiation between COME and HERE is:
COME is being used as a formal recall to get into the HEEL position by your side.
HERE is more informal and just calling your puppy to come back to you, but not in a specific position.
7. STAY – To freeze in her current position.
When the STAY command is given freeze in that position whether it is after SIT, DOWN, STAND, etc.
8. WAIT – To stop moving forward.
Not required to stay in current position can move between SIT, DOWN, STAND as long as she doesn't cross a threshold.
The only requirement is that your puppy remains behind the designated boundary.
When your puppy is in the car they should be on an automatic WAIT.
9. RELEASE – To…