This post may contain affiliate links. We may earn money or products from the companies mentioned in this post.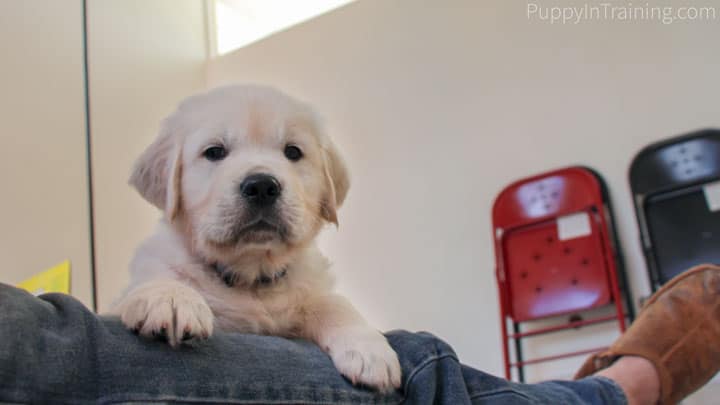 Your puppy's first night at home. It's definitely exciting…It's definitely fun…Here are some things to think about before your puppy arrives at your home.
It's been about a year (UPDATE: Yowzers! It's been almost 12 years now!) since I brought a 7 week old puppy named Stetson home from Guide Dogs of America (GDA).
It made me think of our wonderful first meeting in Sylmar, CA and also the countless nights without sleep for the following four weeks.
GDA does not leave you empty handed after you pick up your puppy.
In fact they give you a puppy manual on what to expect and what you should do during those first few days and nights at home.
These steps aren't only for guide dogs and can be followed by anyone bringing home a puppy for the first time.
Quick Tip: You probably won't be able to get your hands on a guide dog puppy manual, but a good puppy book we highly recommend is The Puppy Primer.
When You First Get Your Puppy Home
Everything's New…Everything's a First…
First things first…we are informed that up to this point your puppy has been with his mother and his littermates in a sterile environment.
It's advised that your puppy's first week at home should be a quiet one. The puppy should be allowed to explore and meet his new family.
You should now start teaching the puppy his name (amazing because, now Stetson knows his name like the back of his paw).
When you first arrive home give your puppy a chance to relieve itself in an area you have designated for that purpose (Stetson's designated spot was in the gravel area on my patio).
In case you need to brush up here's a tutorial we wrote up on the basics of potty training your puppy.
Take your puppy out on leash (without his bib on) — (GDA puppy's in training are never allowed to "Get Busy" with their bib/jacket on) — and repeat "Get Busy" (Remember this may be the first time your puppy has heard these words).
Allow your puppy 10-15 minutes, if he hasn't relieved, take him inside. Try again in 10 minutes.
If the puppy does relieve itself in the proper area, give him lots of praise. Then let him explore the house (remember to supervise – don't let him out of your sight).
Afterwards you may take it inside, but remember to supervise the puppy; do not let it out of your sight. Talk to the puppy when it explores to make it feel more at home.
Puppy's First Night At Home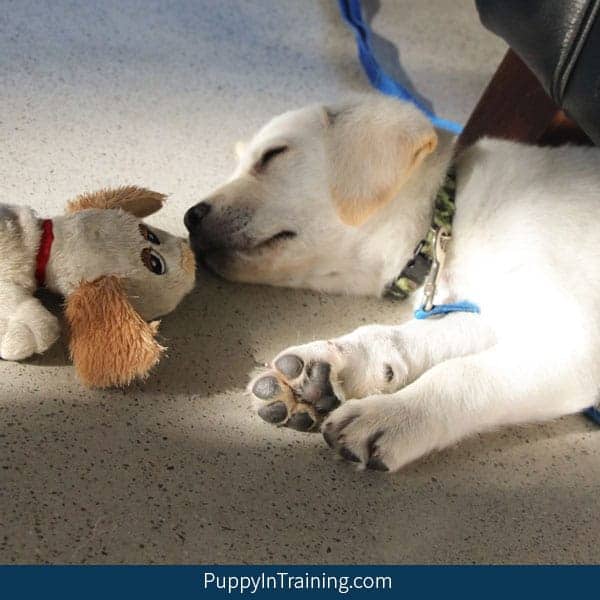 If you've raised a puppy before then you probably know this is where the real fun begins (sarcasm…this is actually when you learn that you do not get to sleep your first night home with a new puppy).
The first few nights at home may be difficult for both you and your pup. At night the puppy will feel lonely and will probably demonstrate this by whining (Oh, you betcha!).
These are a few things that you can do that might make the puppy feel at home.
Your puppy's sleeping quarters should be in a small crate. We use a MidWest Life Stages Double Door Crate which comes with a divider (this allows us to adjust the crate size) and put a blanket over it to make it seem more cozy.
Keep the crate in a draft free area next to your bed. For approximately the first three weeks, if your puppy cries, take him out, on leash to relieving area. After relieving put him back into his crate. Do not give him any treats or any play time. Put him right back into his crate and he should go back to sleep.
Under no…