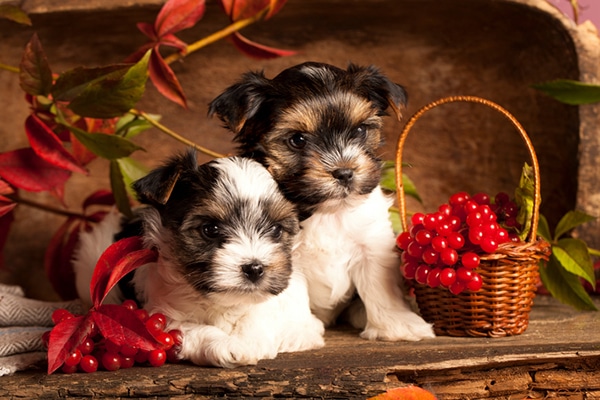 In my family, the holiday season means lots of food, lots of grocery-store runs, and lots of dogs underfoot. For the last several years, we have celebrated the holidays at my sister's place. She has two little dogs, a yappy (but adorable) old Bichon and a cranky (but adorable) old Shih Tzu. Since my parents live about six hours north of the city we three kids are in, they bring along their two senior dogs. A couple of years ago, my brother got himself a pair of Miniature Schnauzer puppies, which increased the holiday guest list to six dogs, eight adults, and one human child — a multi-dog Thanksgiving.
My husband and I were the only ones who weren't bringing a dog to holiday get-togethers, but that changed in October when our rescue Lab-mix GhostBuster attended his first (Canadian) Thanksgiving dinner.
There were already four smaller dogs (including one who is blind and another who is deaf) crowding into my sister's kitchen when GhostBuster arrived, but somehow our Dogsgiving wasn't really that chaotic.
I'm pretty sure I was more stressed out than all of the dogs combined. Here are five tips — based on our recent experience — for keeping calm with an extended family of dogs under the table.
1. Don't panic (like I did)
I hadn't planned for GhostBuster to join us for Thanksgiving dinner. I didn't know if my brother would be bringing his two dogs, and I figured that if he was, seven dogs would just be too many to have at my sister's house (thankfully, my brother's pups did not attend this year).
It was my husband who insisted on bringing GhostBuster (after I called him once there and asked if he would ever be making an appearance). I was nervous as I waited for them to walk the five blocks between our place and my sister's, and when I looked out the living room window and saw the pair coming up the driveway, I felt my muscles tighten with anxiety. I wasn't afraid that GhostBuster would behave badly, I was just afraid that I would feel like we were imposing — and I let my anxiety get the best of me.
2. Decide: All dogs inside or all dogs outside?
I was reluctant to add to the chaos already happening in the house, and as a result I wasn't being fair to my dog or my husband. When my guys first arrived, I put poor GhostBuster in the backyard…