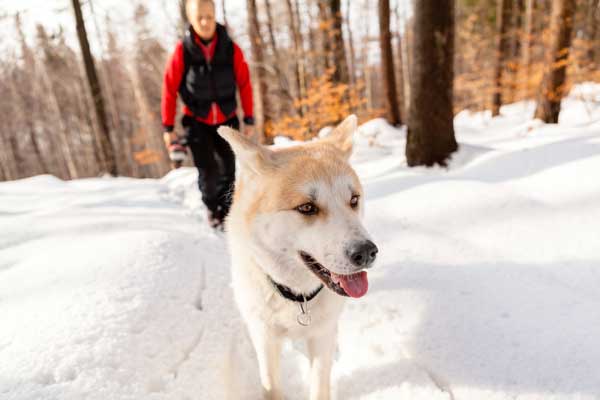 I used to think of walking the dog as just another daily chore until I had surgery on my right knee and couldn't walk under my own power for months. Beyond a doubt, the most painful thing about rehab was the sad look on my dog's face day after a walkless day. Since then, our walks are not only our primary form of bonding and exercise, but also the fulfillment of a promise I made to her.
Walking the dog doesn't have to be just another part of the daily grind. When it's part of your regular routine, dog walking has long-term benefits for both of you. Here are some simple steps you can take to turn your dog walk into more of a workout.
1. Get in a rhythm
Tricia Montgomery, founder and CEO of K9 Fit Club, said the first step is "knowing your body and knowing your dog." A puppy's ability is different than a senior dog's, and a Bluetick Coonhound needs more exercise than a Min Pin. Getting into a rhythm that works for both of you matters.
2. Harness your dog's energy on a walk
Your ability to walk with your dog, rather than pulling each other, matters, too.
JT Clough, author of 5K Training Guide: Running with Dogs, told me that "the way we've always been taught to control our dogs" causes serious "wear and tear on their bodies" and that I might try a harness instead. I did, and both of us felt the difference immediately.
3. Stick to a dog-walking routine
Angel Wasserman, founder of Raleigh's Paws in Training, suggested creating "a daily walking routine that fits into your daily schedule." Two 30-minute walks, three to five times a week, is ideal. No matter how far you walk, both you and your dog will be rewarded physically, mentally and emotionally.
4. Terrain and pace matter more than distance
Wasserman said a healthy dog walk "should be about focused, brisk-paced exercise." To Clough, that means walking fast enough that you're "just slightly on the edge of being able to talk normally."
A walk around the block is OK, but, for Clough, "when you get on hilly terrain,…