An animal shelter in Wilmington, Delaware, has welcomed a sweet, skinny dog found wandering the property with a heartbreaking letter.
"Please take care of Sky," reads the handwritten note, seen in a photo posted to Facebook by the Delaware Humane Association on Thursday. "She is 6 years old and friendly. I couldn't take care of her. I became homeless and couldn't feed her. She is not sick, just hungry. Very friendly. Please find her a home please."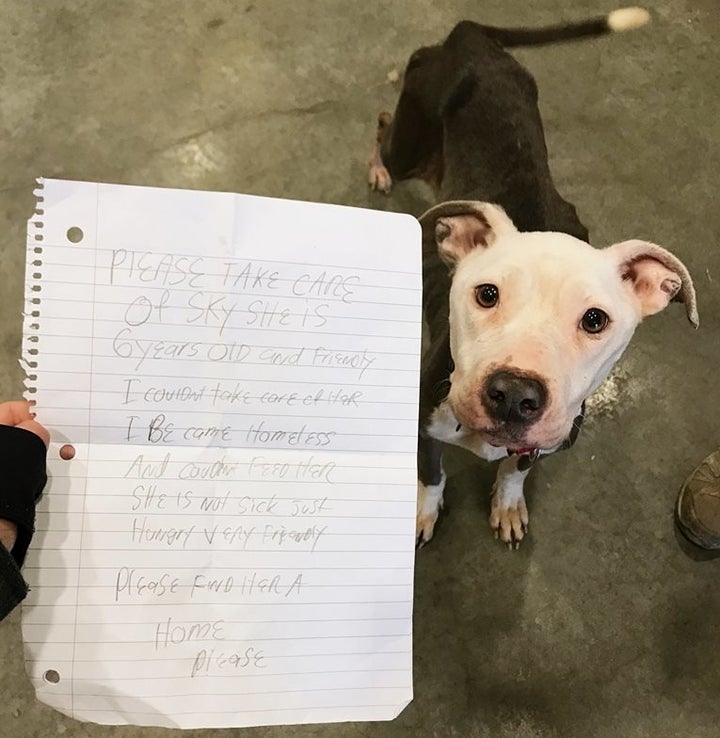 The note was inside a bag that Sky was wearing when shelter workers found her.
"She really is super sweet, but quite shy at times," Delaware Humane development and marketing director Greg Munson told HuffPost in an email. He added that Sky has been "very interested" in other dogs she's encountered.
Director of animal care Kerry Flanagan Bruni told Delaware Online that despite being underweight and having fleas, Sky is "doing great" and awaiting lab results testing for possible parasites.
The shelter urged people in its Facebook post to avoid negative comments about the…