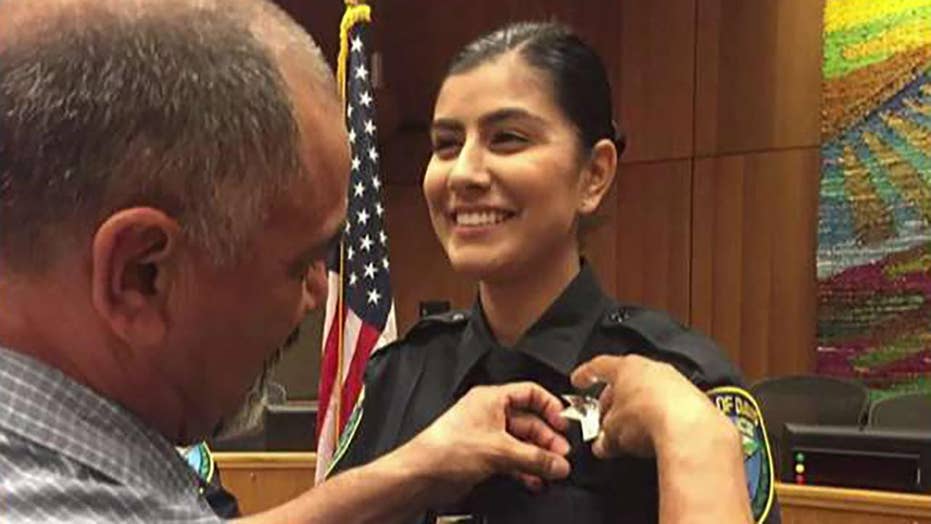 In 2016 Natalie Corona posed for a series of stunning pictures taken by California photographer Rich Laus. The photographs, which she later posted on Facebook, showed the young woman wearing a royal blue gown and holding a Thin Blue Line flag.
"I would like this photograph to serve as my gratitude for all of those law enforcement men and women who have served, who are currently serving, and those who have died in the line of duty protecting our liberties in this great country," she wrote on her Facebook page.
Tragically, her message was prophetic.
COP DIED IN 'AMBUSH' BY BIKE-RIDING GUNMAN WHO CONTINUED TO FIRE SHOTS, POLICE CHIEF SAYS
On Jan. 11, Davis police officer Natalie Corona was gunned down while responding to a car crash. She was 22 years old, described as a rising star in the police department.
And many people across the nation have embraced the photograph of Corona holding the Thin Blue Line flag as a way to honor and memorialize the fallen officer.
TODD STARNES: MISSOURI TOWN READY TO DEFEND GROUND ZERO CROSS MURAL FROM OUT-OF-TOWN ATHEISTS
However, a group of students at the University of California, Davis contend the photograph is racist and they are demanding that people cease and desist circulating the image.
"The flag is blatantly anti-Black and disrespectful," the Associated Students, UC-Davis Ethnic and Cultural Affairs Commission wrote on its now-deleted Facebook page.
"We see it necessary to call-out all community…