This post may contain affiliate links. We may earn money or products from the companies mentioned in this post.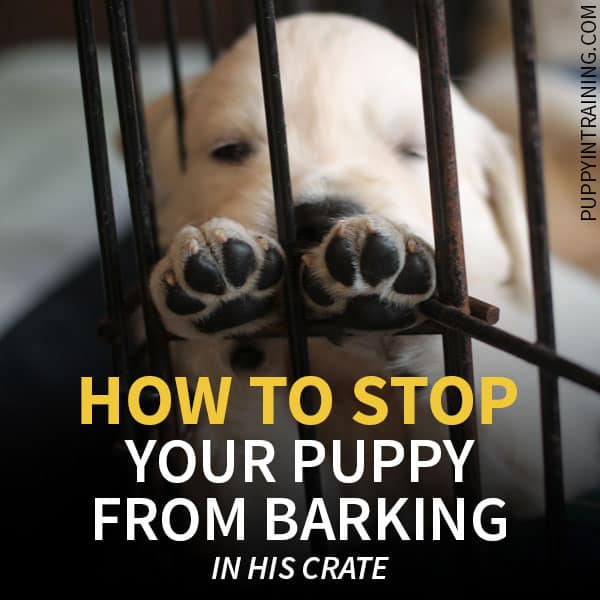 Crate training a puppy is an exercise in patience (with Stetson it certainly was).
If there's one thing I've learned as a guide dog puppy raiser it's how to crate train a puppy.
More importantly I learned how to stop a puppy from barking in his crate at night!
I've been raising puppies now for the over ten years and I've now raised 11 total puppies
Stetson, my first guide dog puppy was very stubborn and hated his crate.
Needless to say, Stetson almost ended my guide dog puppy raising career just as it was getting started.
If you've been following my blog for a while then you already know that it took Stetson over four weeks to get used to his crate.
In fact, he did not let me sleep more than two hours in a row during those four weeks.
The good news is he prepared me for parenthood. My three daughters have all been better sleepers then Stetson!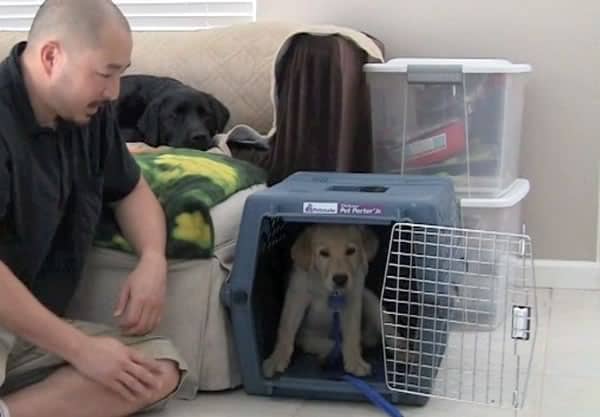 How To Crate Train A Puppy
When it comes to crate training puppies every puppy is different.
Stetson was an extreme case and after those four weeks of pure torture, much to my joy he went totally silent and would sleep in the crate all morning without a peep.
Dublin was on the other end of the spectrum and only had a couple nights of whimpering before he began sleeping through the night.
Over the years I've learned many tips and tricks for crate training puppies.
Today we're going to first share with you the basics of how to crate train a puppy and second, give you our best tips and tricks for those of you who have a stubborn puppy who doesn't want to adjust to his crate.
QUICK TIP: We prefer the wire crates over the molded plastic crates for several reasons.
Our wire crate is collapsible making it easier to store and travel with.
The wire style crate circulates air better and gives us an option of either leaving it open or covering it with a blanket to make it more like a den.
Longevity! We're still using the same MidWest Life Stages Double Door Crate w/ Divider that we had when we brought home Linus over 13 years ago.
As a guide dog puppy raiser we are given exact steps on how to crate train our puppies.
Here's what we learned from Guide Dogs of America about crate training puppies:
A crate is a wire or molded plastic kennel that simulates a nest or den environment. A crate can become a puppy's safe place, not to mention a house saver.
When properly used, the crate becomes a security blanket, a place where the puppy can retreat to escape the household confusion and to feel secure.
Never use the crate as a form of punishment!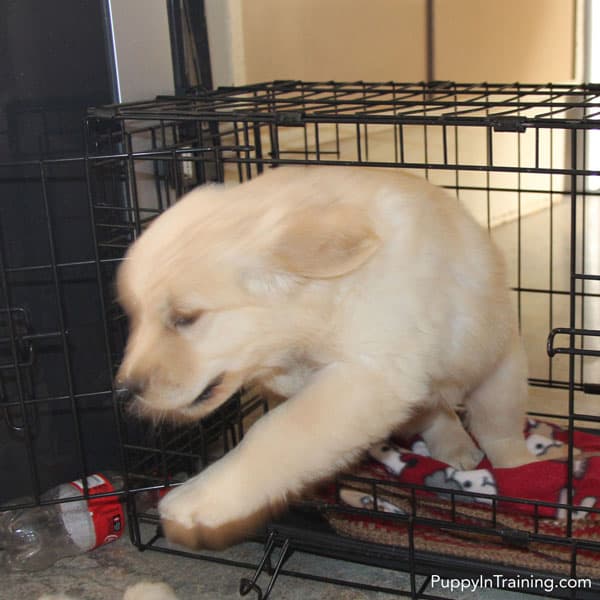 The dog crate should offer a positive, secure environment, a calming zone.
The crate can be effective in house training.
Confined to a crate, an unattended puppy cannot destroy or soil anything.
Do not crate the puppy during the day for more than 3 hours.
Start crate training your puppy on his first night.
Place the crate in your bedroom where the puppy can still see and hear what is going on.
Put a blanket or towel in the crate for bedding.
QUICK TIP: We've been using the Snuggle Puppy Toy w/ Heartbeat and Heat Pack to help our puppies get used to their crate. It worked great with our most recent golden retriever puppy, Charlie.
A pup will rarely soil the crate, however, if he does, try removing the bedding.
A crate should not be too big, but large enough for the puppy to stand stretch and turn around.
When placing the puppy in the crate, use the word "kennel" or "kennel up".
If he should happen to fall asleep somewhere else, pick him up and place him inside and quietly shut the door.
Do not hesitate to periodically use the crate, even while you are home.
You may feed the puppy in his crate and give him some favorite toys, to keep the experience positive."
QUICK RECOMMENDATION: From day 1 we start feeding all meals in the crate. We feed all of our pups Wellness Core Puppy Food.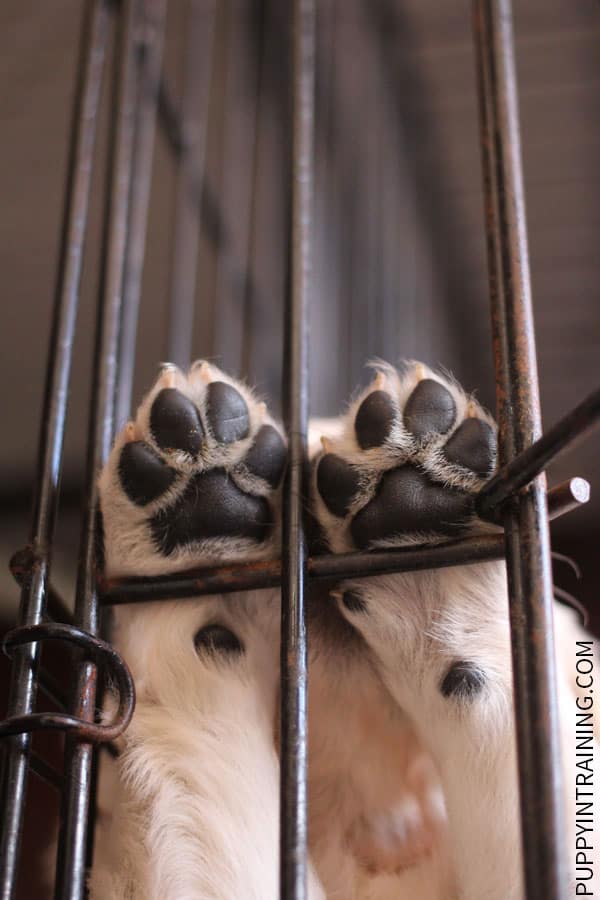 How To Stop A Puppy From Barking In His Crate At Night
Now that we have…