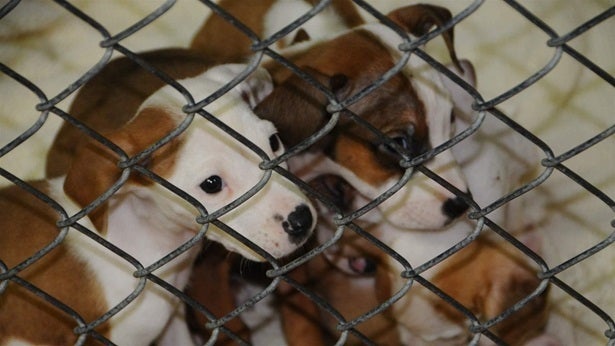 STARKVILLE, Miss. — The din of 27 howling puppies, waiting here for a ride to New York City, is the sound of lives being saved.
The dogs, loaded onto a Dodge cargo van marked "Mississippi Mutts On the Move," like at least tens of thousands of others making the trip northward might once have died for lack of shelter space.
Before the Oktibbeha County Humane Society shelter started shipping puppies and dogs north a decade ago, half the dogs and cats in its care were put down — a "kill rate" of 50 percent. Last year, when the humane society transported 3,000 dogs north, 93 percent of its animals left the shelter alive.
"We are the epitome of the Southern shelter. We are too small for the amount of animals coming in," said Michele Anderson, a humane society board member. The shelter was built in 2005 to hold 100 dogs and cats, but typically has 120, using crates in hallways to hold the excess. Every day brings in as many as 20 more animals.
"Here in Mississippi, we are in the heart of the struggle," Anderson said. "We are always over capacity."
The trend of relocating animals began in the mid-2000s, when a slew of massive hurricanes devastated the South and left thousands of pets homeless. Shelter dogs, many lost or abandoned by fleeing residents, were moved around the country by volunteers hoping to eventually reunite them with owners. Animal rescuers took note, set up a travel network and since then, thousands of Southern animals have made treks north.
As concern about abusive puppy mills spreads, more than 300 cities and two states have banned retail pet sales, requiring stores to offer only shelter-rescued dogs and other pets for adoption. As a result, new markets have opened for the dogs and cats languishing in animal shelters across the South.
Hard numbers are not available, but the American Society for the Prevention of Cruelty to Animals (ASPCA) alone has increased pet shipments from the South from about 500 in 2014 to more than 40,000 in 2018.
The trend may continue as more states prohibit retail pet sales. A California ban took effect this year, a Maryland one starts next year, and Pennsylvania and New York are now considering them.
The chatty pups in the Dodge van, along with three adult dogs, eventually made their way from rural Mississippi to the Big Apple last week. Half were adopted this past weekend, and volunteers hope to find homes for the rest in the coming days.
To be sure, some states — wary of canine diseases and parasites — are less eager to take in the animals.
Rhode Island imposed the nation's most onerous quarantine for imported dogs — at least five days — after cases of the deadly canine parvo virus rose from two a year to two a week at its peak in 2012.
"It was affecting people's lives, because they would bring home an imported dog with parvo, their other dog would catch it, and before they realized it, both dogs were dead," said Rhode Island State Veterinarian Scott Marshall.
Rhode Island's quarantine followed similar actions in Massachusetts, where officials imposed the first quarantine on imported dogs in 2005, and in Connecticut, where dogs were required to be examined by an in-state veterinarian within 48 hours of arrival.
After complaints from rescue organizations, Rhode Island later in 2012 began to carve out exceptions for rescue organizations that could show they carefully screen for parvo and other ailments such as heartworm parasites, Marshall said.
"From a pure health perspective, we shouldn't be doing this," he said. "But it's political now. People think they're doing a good thing. They want to do this."
Northern states, which often have shortages of adoptable dogs, have residents eager to take in surplus dogs from the South. They're doing it through shelters like the one in Oktibbeha County, Mississippi, through volunteer rescue activists who coordinate moves between shelters, and even through individual animal lovers who journey cross-country to find new companions.
A couple from New York City recently spotted a pup online, flew here to Starkville to come get it, and drove back home, according to Martha Thomas, the humane society's development director.
Some potential owners find out about the relative abundance of Southern dogs by accident.
Susan Ethridge of Woodbridge, Virginia, a suburb of Washington, D.C., was frustrated over the past year by the low supply of shelter puppies in her area when she wanted one for her grandson.
Twice she signed up for "clear the shelter" events in suburban Washington, only to wait for hours and still miss out, because people who came even earlier adopted the dogs her grandson liked.
"We were never quick enough to get the puppy we wanted," she said.
Over the winter holidays, she visited her father in Heber Springs, Arkansas, and he suggested their local shelter. The shelter was full of dogs, and she walked out an hour later with her new puppy, Molly, a husky mix. The adoption fee…